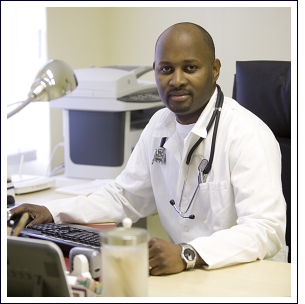 My name is Boubacar Balde, I´m from Guinea Conakry, west Africa where I completed my secondary school.
Since 1991 I have lived in the Czech Republic, in 2001 I finished my medical studies in the first faculty of medicine at Charles University in Prague, after my university training I first worked in the gastroenterology department of the transplantation clinic – IKEM Prague, then for more than 3 years in the internal medicine department of Frantisek Hospital in Prague where I took my specialization in 2005.
In 2005-2006 I worked in the department of medicine and diabetes of the Kings College Hospital in the UK.
Coming back to Czech Republic I worked in the internal and haemodialysis department of the hospital in Mělník as an SHO. Since 2010 I have run my own surgery.